10 Non-Scary Movies to Get You Hype for Halloween
Happy October! Those who know me well know that there are a few things I avoid like the plague: ice skating, public speaking voluntarily, and watching scary movies. Bloodcurdling screams, murderous villains, and possessed demon children? No, thank you - I'll pass.
So, what's a girl to do to get in a happy Halloween mood? Over the years I've curated a list of non-scary Halloween movies that has become near and dear to my heart. On any given weekend in October, you'll find me on the couch tuning into one of these. Here's to all my fellow scaredy cats - enjoy!
Remember the glory days of Disney Channel pre-Miley Cyrus? Tower of Terror sure didn't break any box office records but if you love the ride at Disney World, you'll love this movie. Young Kirsten Dunst and Steve Guttenberg work to solve the mystery of the sweet ghost fam that lives in the hotel. Can I join that team?
Anytime I mention this movie to someone, they look at me like I have 3 heads. How has no one heard of this gem? Teen Witch is the perfect 80's movie with high school drama, cringe-worthy outfits, and a little touch of magic. You're welcome.
Not gonna lie, anything created by Tim Burton kind of creeped me out for a while. But I gave Corpse Bride a chance a couple of years ago, and it's better than I expected! It's dark but also has some light-hearted moments. Check out my killer Corpse Bride costume from 2018!
A true classic. Scary level out of 10: -1. The Ray Parker Jr. theme song will be stuck in your head for the rest of the month. Plus Bill Murray! Need I say more?
If you were anything like me in the 1990's, you lived and breathed Disney Channel Original Movies. Unlike me, Halloweentown will never get old. Aggie Cromwell is the epitome of grandma goals, and it's embarrassing to admit, but eight-year-old Amanda wanted a talisman and a broom SO BADLY thanks to this. Maybe someday.
Sleepy Hollow with Johnny Depp is actually a borderline scary movie, but if I can handle it, I say it should make this list. It's just creepy enough to get you in the Halloween mood without giving you nightmares. Perfect!
The Nightmare Before Christmas
For a girl who avoided anything Tim Burton for the first 25 years of her life, he sure is dominating this list. But, here we are again. Jack Skellington may look scary, but you end up rooting for him the whole way through. Jack & Sally forever.
I was late to the party with this one by discovering it a full 18 years after it came out, but this movie is now one of my absolute staples for kicking off fall. Sandra Bullock and Nicole Kidman are two beyond gorgeous witches who find themselves in a bit of a sticky situation. It's funny, lighthearted, romantic, and spooky in all the right ways. Next time you make margaritas, you'll be dancing around your kitchen. 10/10!
Another movie I was totally sleeping on until recently. Young Frankenstein seems scary from the movie poster, the black & white film, and the dark-and-stormy-night setting, but I lost track of how many times I legitimately laughed out loud. I can't even sum it up for you, you have to see it to believe it!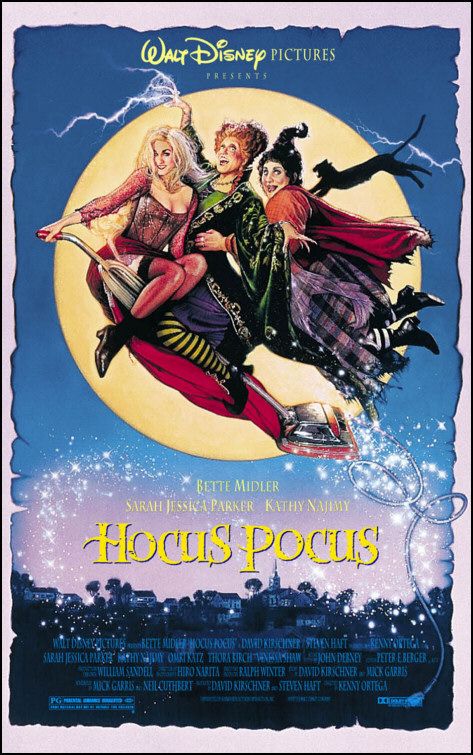 "It's just a bunch of hocus pocus!" You really thought for a second that I was going to leave this one off? Although it's the best Halloween movie ever created, it still boggles my mind how this movie seems to make actual headlines every year. It has become a true classic. I still hold out hope that someday the Sanderson sisters will crash my Halloween party and perform "I Put a Spell on You."
There you have it! Ten non-scary Halloween movies to get you in the perfect spooky mood without the blood, guts, and demons. Got any more suggestions for me? Let me know and I'll add them to my watch queue for next year!